After spending a late evening - post concert and surfing the net - I decided that it was time I joined the Millennium of CyberSpace junkies and finally surrender to the creation of
a new and improved website since the first unveiling in 2004!

indeed, the Internet has proven indispensable in sharing with my fellow music lovers and 'cyberphiles' throughout this Universe the passions, discoveries and advancements which have made my calling as a singer and teacher so endlessly fascinating to me.

I would like to thank my family, zillion friends and colleagues who have supported me every step throughout this ongoing musical odyssey in my life. It has been quite a ride and,

I cherish you all...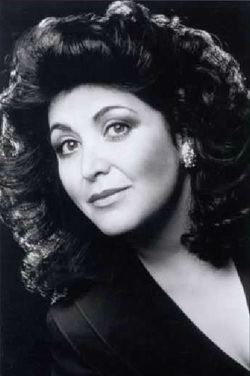 Ms. Alsatti's international career began having won 1st Prize in the Eastern Regional Metropolitan Opera Auditions. She traveled to Europe and auditioned for the Young Artists Program of the prestigious Vienna State Opera. Selected from among 630 singers she had the honor of working with legendary Kammersängerin Hilde Güden and mentor Dr. Professor Marcel Prawy. Under their careful tutelage she quickly advanced into the company where she captured the attention of Italian film/opera director, Franco Zeffirelli.

Zeffirelli, impressed with her exotic demeanor and arresting artistry, cast her immediately in the historic Eurovision/ PBS Great Performances Series premiere broadcast of Bizet's "Carmen" starring with tenor Placido Domingo, the Bolshoi Opera's Eleana Obratsowa, and conductor Carlos Kleiber leading the Vienna Philharmonic.

Following her radiant success, she was chosen by Viennese director Otto Schenk to star in a premiere of "Gianni Schicchi", with Gerd Albrecht as conductor. Herbert Von Karajan cast her as the Heavenly Voice, in the Vienna State Opera's production of "Don Carlos" with Mirella Freni and Nicolai Ghairov. The premiere of Henze's "Der Junge Lord" followed quickly behind.

Her career gained further acclaim when she was heard at the international Salzburg Festival in "Der Rosenkavalier", which starred Luciano Pavarotti. Her European credits have performances in Vienna's venerable Musikverien, Amsterdam's Concertgebouw, Frankfurt Festhalle, Maggio Musicale Fiorentino, Opera St. Petersburg, Spoleto Festival and Puccini Festivale, Lucca, Italy.

United States appearances include her acclaimed Carnegie Hall debut - World Premiere John Rutter's "Requiem and Magnificat", with Composer John Rutter conducting.

"Mahaghonny Songspiel" - Tanglewood Music Festival.

Madame Butterfly, Lyric Opera Dallas, St. Petersburg Opera.

The Marriage of Figaro, Tanglewood-Berkshire Music Festival.

The Czar's Bride - Kennedy Center for the Performing Arts.

La Boheme - Toledo Opera.

Pagliacci - Greater Buffalo Lyric Opera.

Manon Lescaut - Pittsburgh Opera Series.

La Perichole - Boston Concert Opera.

New York Arts Ensemble - American Composers Series.

Smithsonian Institute - Concert Series.

In addition to her continuing performance career, Ms. Alsatti leads Master classes and seminars in vocal technique and preservation while interchanging several languages for more than 48 students. She remains a highly sought after teacher both privately as well as having been a faculty member for Western Europe's premiere musical theater school, The Performing Arts Studios Vienna, Vienna, Austria - 1993-2004. Currently, she serves as an adjunct voice professor at Robert Morris University - Theater Communications.

Member: American Guild of Musical Artists (AGMA); American Federation of television and Radio Artists (AFTRA)

---
Magnificat, Cantata for Soprano, Chorus and Orchestra
John Rutter, Composer and Conductor
Maria Alsatti, Soprano
World Premiere, Carnegie Hall, New York, May, 1989
00:00 - Magnificat
06:05 - Of A Rose, A Lovely Rose
11:34 - Quia Fecit Mihi Magna
17:27 - 4 Et Misericordia - Soprano Solo
22:27 - Regie Potentiam
25:55 - Et Surrientes - Soprano Solo
31:51 - Gloria





Kleinhans Gala Concert, New York Philharmonic
Franco Collura, Conductor
Maria Alsatti, Soprano
Enrique DiGuiseppe, Tenor
00:00 - La Boheme Mi chiamano Mimi
05:00 - La Boheme O Soave Fanciulla
09:00 - Adriana Lecouvreur Io Son L'umile Ancella
13:22 - Gianni Schicchi O Mio Babbino Caro
16:20 - La Boheme Quando M'en Vo
19:42 - La Traviata Libiamo
24:30 - La Traviata Libiamo Reprise - Encore